The Hill: 3 combat veterans unite on first day of new Congress: '5 eyes. 5 arms. 4 legs. All American.'
Republican lawmakers who were wounded in combat gathered on the first day of the new Congress for a group photo and to highlight their military service, saying they are "All American."
Rep. Brian Mast (Fla.) shared a photo with freshmen lawmakers Reps. Dan Crenshaw (Texas) and Jim Baird (Ind.) on the day of their swearing-in ceremony.
"5 eyes. 5 arms. 4 legs. All American," Mast wrote in his tweet welcoming the two new members.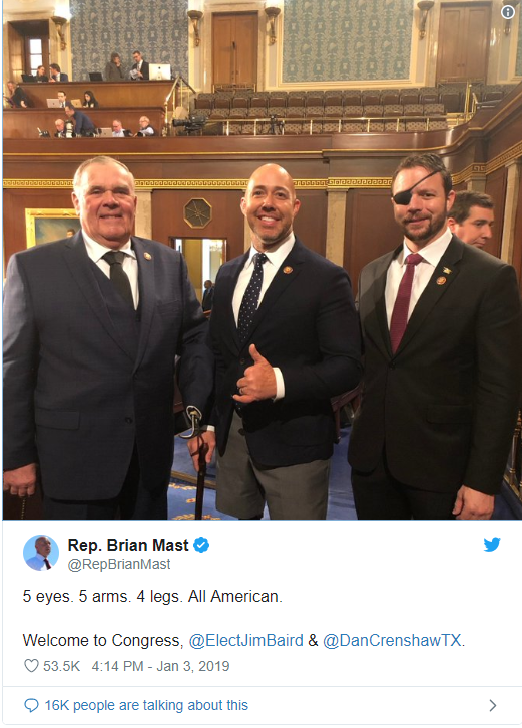 Mast, 36, is a U.S. Army veteran who lost the lower part of his legs during an explosion in Afghanistan while working as a bomb technician.
Former President Obama invited Mast as a guest to his 2011 State of the Union address, where he sat in the front row with former first lady Michelle Obama.
Baird, 73, served in the Army during the Vietnam War and lost his left arm.
Crenshaw, 34, is a former Navy SEAL who wears an eye patch ever since he was wounded in 2012 while serving in Afghanistan. He explained in a video last month that he is "very self-conscious" about the glass eye he has, which is why he wears a patch.
Crenshaw made national headlines in November after "Saturday Night Live" cast member Pete Davidson mocked him and his eye patch during a sketch.
Crenshaw later appeared on the show as Davidson made a public apology, calling him a "war hero."
The freshmen class that was sworn in on Thursday includes 22 new members who worked for the CIA or served in the military.